Online Repair Quote By Make
Tyres Brynsiencyn
Located in southwest Anglesey, Wales, Brynsiencyn is a small hamlet under the Llanidan community. It is popular among the tourists for the remains of the Roman invasion, including the parish church.
As a Brynsiencyn resident, do you feel the need to repair your vehicle for a better driving experience? You can blindly rely on DMH Tyres Ltd for this. We excel in multiple vehicular services, including car servicing, brake repair, wheel balancing, car battery and exhaust services, seasonal checks, etc.
We are easy to access from Brynsiencyn, only an 18 minute drive away.
Find out all about our services and facilities here.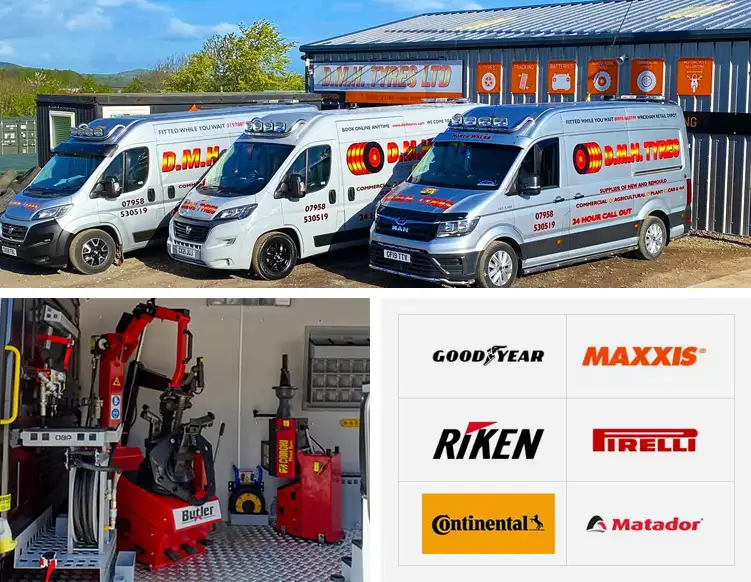 Tyre Brynsiencyn
As a driver, you must be concerned with choosing and maintaining your car tyres Brynsiencyn. At DMH Tyres, we take care of your tyre requirements through our retail store. Here, you can find multiple variants of tyres, including the following.
Summer Tyres
Winter Tyres
4x4 Tyres
Performance Tyres
All-season Tyres
Run-flat Tyres
Furthermore, you must be glad to find our cheap tyre Brynsiencyn collection to save your budget. We also have products from the following best-selling tyre manufacturers.
Pirelli
Continental
Bridgestone
Tyre Repair
Are you facing issues with braking, vibrating wheels, reduced car stability and control or car skidding? Then, you should immediately bring it to us for repair. We use our innovative equipment for tracing any damages on the tyre tread because of leaking grease or corrosive fluid. Then, our experts will dismount the damaged tyre, insert leather patches and repair it to avoid further damage.
Wheel Balancing
If you feel an imbalance with your wheel, it is advisable to seek immediate assistance. We at DMH Tyres excel at identifying the problems and repairing your vehicle while causing the lowest damage to the rims.
Car Servicing
We offer extensive car servicing for your vehicle to identify various problems and resolve them. Our experts are familiar with most car models and can efficiently conduct interim or full car servicing at an affordable range.
Mobile Tyre Fitting Brynsiencyn
How challenging is it to be in a hurry and have a punctured tyre? DMH Tyres realises this problem. We have a 24/7 mobile tyre fitting service, and you need to call our emergency line 07949148531. Our experts will reach your location and repair your tyre.
So, why neglect your car service? Visit us at Llangefni Tyres Bryn Cefini, Industrial Estate, Llangefni Anglesey LL77 7XA, UK. You can also call us on 07949148531, or drop us a mail at info@dmhtyres.com. We will reach you immediately and solve your problems.
Opening Times
Monday

08:00am - 17:30pm

Tuesday

08:00am - 17:30pm

Wednesday

08:00am - 17:30pm

Thursday

08:00am - 17:30pm

Friday

08:00am - 17:30pm

Saturday

08:00am - 13:00pm

Sunday

Closed